Dr. Ivan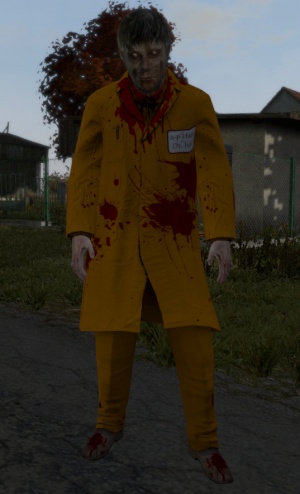 Early life
Dr. Ivan Adrikovič Simirnov a.k.a 'Dr. Ivan' (Russian Cyrillic: Иван Адрикович Симирнов) born on September 24, 1938 in Norilsk to young nurse Olesya Aleksandrovna Konikova (Russian Cyrillic: Олеся Александровна Коникова) and Yegor Afanasievič Simirnov (Russian Cyrillic: Егор Афанасиевич Симирнов) a nickle miner.
Not much is known about Dr. Ivan's childhood apart from that he attended elementary school in Norilsk and then studied Molecular and Theoretical Biology at the Novosibirsk State University (Новосибирский государственный университет - НГУ). Dr. Ivan's whereabouts after graduating from the Novosibirsk State University are unknown although it is speculated that he worked on the Soviet Biological Weapons Program in Sverdlovsk
Before the infection
Apart from the speculations that Dr. Ivan worked on the Soviet Biological Weapons Program in Sverdlovsk not much is known about what he was up to before the infection broke out, although from documents found in a secret laboratory on Taviana where it is said that he worked, it is evident that he was present on Taviana S.S.R for a few years before the infection broke out. How, when and why he come to the Taviana S.S.R is unknown.
The infection
From documents found in the secret laboratory it is known that Dr. Ivan not only knew about the infection that has now spread trough the world but was working on a cure for it. It is not known if he ever finished the cure or where it is as Dr. Ivan himself contracted the infection and turned in to a zombie although a piece of a document was found where a "Patient 0" is mentioned. Who Patient 0 is, is currently unknown. Some say that he possesses superhuman powers, others say that he holds the cure to the infection or even the key to eternal life. Although many survivors have reported seen Patient 0 none of these sightings have ever been confirmed and his very existence is shrouded in mystery.
The origins of the infection are also shrouded in mystery, although one memo found with the documents in the secret laboratory seem to suggest something along the lines that the virus was an attempt by Soviet scientists to create a super Soviet man and woman who would be much stronger than regular human beings, be able to work for longer and harder or perhaps a super soldier that went terribly wrong.
Loot when killed
Dr. Ivan is very hard to kill, you will need a machine gun and plenty of head shots to kill him, be ware! But if you do kill him, he carries some very rare loot!
| Image | Name | Probability |
| --- | --- | --- |
| | GPS Navigation | 30% |
| | Map | 80% |
| | Entrenchment Tool | 60% |
| | Tool Box | 60% |
| | Old Pliers | 50% |
| | Old Saw | 50% |
| | Old Hammer | 50% |
| | Old Rope | 50% |
Dr. Ivan also carries one of the following rare loot per server restart:
| Image | Name | Probability |
| --- | --- | --- |
| | Level 1 House (Bandit) Blueprints | 6% |
| | Level 2 House (Bandit) Blueprints | 6% |
| | Level 3 House (Bandit) Blueprints | 6% |
| | Level 1 House (Hero) Blueprints | 6% |
| | Level 2 House (Hero) Blueprints | 6% |
| | Level 3 House (Hero) Blueprints | 6% |
| | Small Garage Blueprints | 6% |
| | Big Garage Blueprints | 6% |
| | Level 1 Electronest (Bandit) Blueprints | 6% |
| | Level 2 Electronnest (Bandit) Blueprints | 6% |
| | Level 3 Electronest (Bandit) Blueprints | 6% |
| | Level 1 Electronest (Hero) Blueprints | 6% |
| | Level 2 Electronest (Hero) Blueprints | 6% |
| | Level 3 Electronest (Hero) Blueprints | 6% |
| | Lightbulb | 6% |